Are You Ready? Hybrids Season 2. Episode 1.
At Office of Emergency, Copenhagen. Part of Voices of Pythia
a performance by: The Living Unliving Surveillance Poet
produced by: gitte sætre & frans jacobi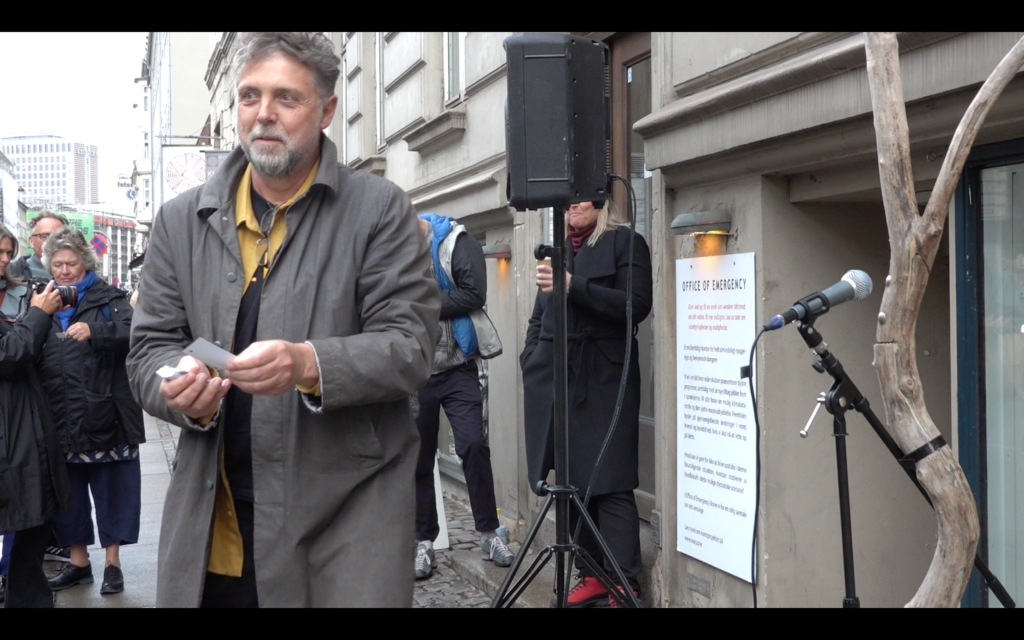 I, The Living Unliving Surveillance Poet will soon be speaking-up about a real-world problem on the sidewalk outside the Office of Emergency in Copenhagen. However, my contemporary life started in Norway all the way back in 2019. Just after two disillusioned artists, Gitte Sætre and Frans Jacobi, decided to go out into the world and find some help. They found me, a dead tree floating in the water below Ludwig Wittgenstein's cabin in a deep Norwegian fjord. They placed me on the roof of their electric car. 
Among many new landscapes, wonder and language came alive. Possibly due to the memory of my root systems and my connections to philosophy. Now, many moons later, we have finished making a hybrid reality show at AreYouReady.tv. As a tentative and vulnerable tree, I have taken my name and the implicit tasks seriously. I have been surveilling the human society, reporting back to the forest by full moon. And I will be deadly serious again when I now give a speech at the Office of Emergency.
Artists and curators often call for new voices, utopia, and new visions. Well, that´s what you´ll get. My mission is a vision of reality. My voice will be heard, but human imagination will be challenged. If it makes you feel better, I am supported by the Norwegian Art Council, Fond for Lyd & Bilde, and the Municipality of Bergen and The European Parliament.
Thursday the.14th Oct at 5 PM
Outside the The Office of Emergency.
Vesterbrogade 101